As I See It!
Reviews by Jeff Reed
---
Artist: Promise Land - Cassette
Project: Turn To Him
Producer: Eddie Crook
Label: Cedar Hill
Style: Traditional Southern Gospel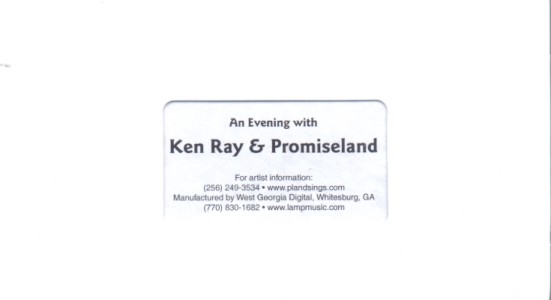 Promise Land's latest offering from the Cedar Hill label is "Turn To Him".
One great song you'll find here is, "Healing" written by Roger Bennett. I think you'll like Randy Shelnut's "I'll Take Jesus". There is a cover of "Trail of Tears", and in all "Turn To Him" features 10 cuts. Promise Land continues to bring you beautiful
Southern Gospel songs for your journey home!
---
Artist: Billy Speer - Cassette
Project: This Is America
Label: Speer Recordings
Producer: Billy Speer
Style: Southern Gospel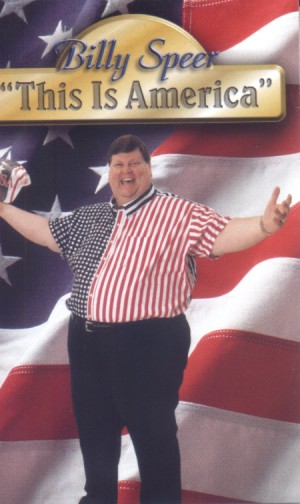 Are you looking for a patriotic project to show your support? Billy Speer
has a dandy, "This Is America". This album contains all of your red, white, and blue favorites like, "God Bless The U.S.A." You will also hear "The Battle Hymn", "God Bless America", and "America The Beautiful". Billy Speer does a wonderful job
on all 10 cuts. This is a great time to show your support!
---
Artist: Heartfelt - Cassette
Project: Something Out of Nothing
Label: Self-Produced
Producers: Self-Produced
Style: Southern Gospel
Randy Barron and all of the guys in Heartfelt have produced a
project that they can be very proud of, "Something Out of Nothing". I have to say that I believe that this is Heartfelt's best work ever and that is saying a lot because they are an excellent band. My favorite song is the title cut and as I told Randy, "it seems like this song was written just for Heartfelt". (Something Out of Nothing) I don't mean any disrespect to the Freemans who originally recorded the song about a year ago, but no one has done it any better than Heartfelt. Check out Bobby Marler on "After All", that is just beautiful. "If The Rapture Was Yesterday" packs a powerful punch, and you'll clap along with "By The Time They Find Me Missing". From top to bottom this is a solid recording. I believe
that something on this album will move you. Terrific job guys!
---
Artist: One Heart - Cassette
Project: Through The Years
Label: Gerald Wolfe Productions
Exec.Producer: Kyle Underwood
Style: Southern Gospel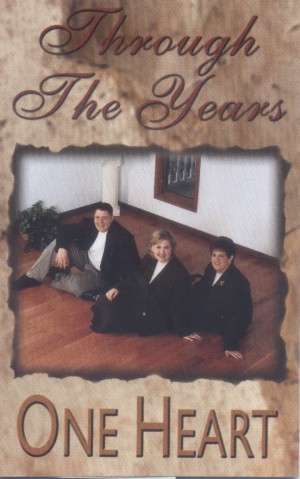 The latest project from One Heart, "Through The Years" was produced by
Gerald Wolfe on his own label. If anybody knows about trios it ought to be Gerald Wolfe, so this group called One Heart should be pretty good right? They do indeed have a good sound; their strong vocals can be heard on 11 cuts. "Through The Years" has a couple of covers, "Praise His Name" and "I Will Glory In The Cross". You will also hear a pair of Rodney Griffen songs, "A Greater Miracle", and "That's God's Job". One Heart also offers some classics like "Hallelujah Side" and "When Jesus Comes". One Heart has a great, traditional, Southern Gospel sound and they've put it to good use on "Through
The Years". This is the first project I've heard from GWP.
---
Artist: Kimberly Allen - Cassette
Project: Presence
Exec. Producer & Producer: Kimberly Allen
Style: Classical / Praise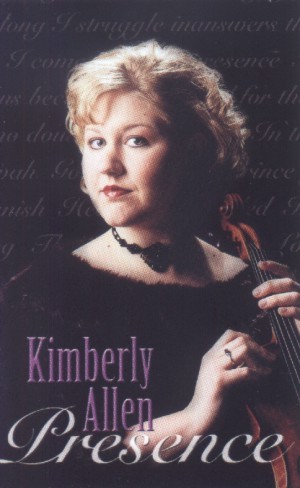 Kimberly Allen has releases this instrumental album titled "Presence", on which
she plays the violin. Notice, I did not say fiddle. You cannot pop in "Presence", and expect blue-grass. Kimberly's style leans more to the classical side appealing to a refined audience. There are 10 cuts on this project, and you'll hear some beautiful violin playing with accomanyment. You will hear: "O For A Thousand Tongues", "Do You Know My
Jesus", and "Near To The Heart of God", plus much more. So purchase Kimberly Allen's "Presence" and add a touch of clalss to your life. Imagine eating a nice candle-lit dinner with soft violin music playing in the background. You might even forget
that your eating Hamburger Helper!
---
Artist: Kimberly & Maranda Dunn - Cassette
Project: New Heaven / New Earth
Label: Independent
Style: Southern Gospel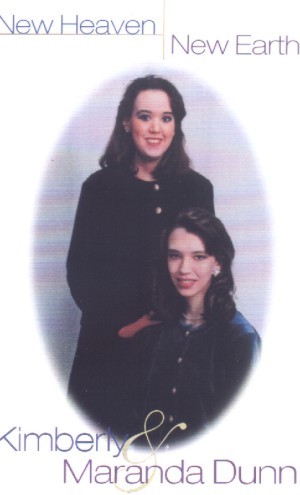 I really don't have a lot of information about Kimberly & Maranda Dunn, but I can tell you that their new project sounds great! "New Heaven/New Earth" is the title of this self-produced project which contains 10 harmonious cuts. The Dunns have a sound that is similar to the McRae Sisters with a slight difference. I particularly liked, "Mountain Get
Out of My Way", "Yes I Know", and "God Is Faithful". Kimberly & Maranda Dunn have a bright future in Southern Gospel, and I would like to hear more from them. It would be great to have just a little more information about them, and I'll be happy to pass that along when I get it. In the meantime, if you get a chance to pick up a copy of "New Heaven / New Earth" by Kimberly & Maranda Dunn, I believe you'll be glad you did!
---
Artist: Gold City - CD
Project: Pressed Down, Shaken Together, Running Over
Label: Daywind
Exec.Producer: Dottie Leonar Miller
Producer: Mark Trammel
Style: Traditional Male Quartet
The first cut was written by a good friend of SGN Scoops, Mark Mathes,
who did a beautiful job writing "I Believe". I just love "He Took The Hill" it was sritten by the team of Jonathan Wilburn and Rodney Griffen, if that gives you any indication of what a great song it is. Our buddy Mark Mathes also wrote "I'm Not What I Was" and "Grace". "Grace" is a ballad that is sure to touch your heart, and Gold City has not lost that award winning sound. "I'll Just Praise You" is a terrific worship song with just a little bit of saxaphone in the back ground. I really enjoyed "He Who Was And Is To Come", what a great message and Mark Trammel's delivery was supurb! Out of ten cuts there is not an ounce of filler. This project contains so many blessings they had to title it,
"Pressed Down, Shaking Together, Running Over".
---
Artist: The Isaacs - CD
Project: Stand Still
Label: Horizon
Exec. Producer: Mickey Gamble & Chris White
Producer: Ben Isaacs
Style: Bluegrass & Southern Gospel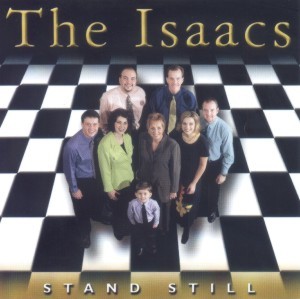 Rebecca Isaacs Bowman, Sonya Isaacs Surrett & David Marshall co-wrote
"Stand Still" which is an excellent song that kicks off this project. Sonya co-wrote most of the songs on "Stand Still", Rebecca got in on a couple, and Tim Surrett co-wrote "The Reach Of His Hand" and wrote "I'm Ready To Go". I liked, "I Brought You To Jesus" by Rodney Griffen. Check out, "I Can't Make It Without You" written by Lary Petree and Chris White. The Isaacs have put together a great project here, I really enjoyed it. "Stand Still" has the best blue-grass coupled with great Southern Gospel, I'm sure
you'll hear a lot from this latest offering from The Isaacs.
---
Artist: Kingsmen - CD
Project: I Will
Label: Horizon
Executive Producers: Mickey Gamble and Chris White
Style: Southern Gospel
What else would you expect from a group like the Kingsmen but
another great project? Well have no fear, for "I Will" is in no manner a dissapointment. This disc has fourteen songs filling it out. Just to mention a few of the great songs, there's "One Way Trip", "It's a Hallelujah Moment", and "Nothing Can Seperate Me". If told I had to pick a favorite, it would probably have to be "Whisper A Prayer". This spiritual composition shows off the group's vocal talent better than most other songs. Without a question, this is one project that all Southern Gospel fans should have in their personal collection. WE MIGHT ADD THAT THIS IS THE LAST PROJECT
BEFORE THE KINGSMEN NAME WAS RETIRED!
---
Artist: The Cupps - CD
Project: It Wasn't the Nails
Label: Zion
Style: Southern Gospel
The Cupps are a good duet. They have a good, consistent sound that will uplfit the listener. The title cut, "It Wasn't the Nails", as well as "I Just Want To Praise You" and "Help Me" are some of the fine songs you'll be treated to on this album. With Troy Cupp having written three of the songs, I'd have to pick "With You Holding My Hand" as his best work. This is truly an anointed song that is sure to bless the listener. If you've never heard The Cupps before, "It Wasn't the Nails" is a great project to get to know them with.
---
Artist: The Eberhardts - CD
Project: Dance In Advance
Label: Zion
Style: Southern Gospel
The Eberhardts are three very talented ladies who have an upbeat, joyful sound to their music ministry. "Dance In Advance", "Look Away To Jesus", and "It's My Blood" are just three of the great songs you'll hear on "Dance In Advance". My personal pick from this project would be "I Feel a Shout Comin' On". Be sure to get to your local bookstore and
check out The Eberhardts latest work. I'm sure you'll enjoy it.
---
Artist: The Lawsons - CD
Project: Redeemed By His Blood
Label: Independent
Style: Southern Gospel

It is apparent through the Spirit that you feel from listening to this father-daughter duet that they are in Gospel Music for the right reason. Their love for the Lord is apparent through songs like "I Want To Go There", "I Am Redeemed", and "When Dust Shall Sing". All in all, this is a very good project. The one problem that it does have is it's sound quality, though. The vocals sound somewhat muffled on all of the songs and the volume level is very low. Other than these couple of sound issues, the project is a very good one.
---
Artist: The Duncans - CD
Project: Testimony
Label: Zion
Producer: Kevin McManus
Style: Southern Gospel

First, let me make something clear: This is not a totally Southern Gospel-styled project. There is a definitive Country Gospel flavoring to it; not enough to classify it as Country Gospel, but enough to make mention of. This is a talented duet. Songs like "Eternity", "How Will I Know", and "Lay Your Burdens Down" are just a sample of the great
songs included on "Testimony". This entire project will uplift and strengthen you. This is something that cannot be said of all recordings today. Keep up the good work.
---
Artist: Southern Heritage - CD
Project: Self-Titled
Label: Zion
Producer: Kevin McManus
Style: Southern Gospel

This is one of the best projects I've had the opportunity to review in some time now. I must get this out: Southern Heritage does an outstanding job on "There's No Other God"! This is a terrific quartet that has a great sound to them. They are very uplifting and most
assuredly the anointing is upon them. It's just not often enough that you find a quartet of this caliber. Some songs will have your foot tapping and shoulders swaying, others will have your eyes shut just enjoying the Spirit you feel. "When I Reach Heaven Someday", "Evey Step I Take", and "I Know My God Can Do It" are some highlights from this self-titled recording. Whether you've ever heard these guys before or not, don't miss out on this project. I guarantee that you will thoroughly enjoy it. Great job guys!
---
Artist: The Booth Brothers - Video
Project: The Booth Brothers Live!
Producer/Director: David Brainard
Producer: Nick Bruno
Style: Southern Gospel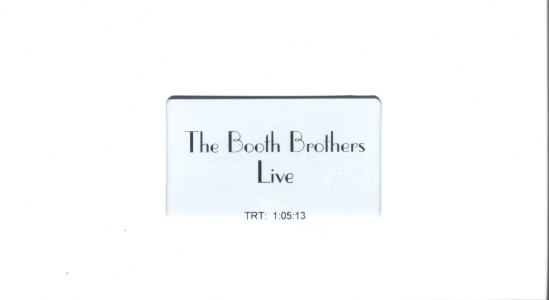 The Booth Brothers have put together an excellent live video that showcases their trademark harmony. The young, trio absolutely sizzled on the Mosie Lister classic "Feelin' Mighty Fine". This is followed up by a Mosie Lister ballad, "It Takes a Storm" which features Joseph Smith. Ronnie Booth II takes the lead on an emotional rendition of "Love Was In The Room" by who else? Mosie Lister! The Booth Brothers then go back to the "Walkin' On The Good Side" project for a barn-burner "Glory To God In The Highest". A great part of the video happens when Nick Bruno comes to play the piano and Michael Booth tells a little about Nick's background with the Rebels Quartet. Michael then does a beautiful job on "In The Garden". "Swing Down Chariot" is performed accappella to the
crowd's delight. Two more Mosie Lister songs brought to the table are "Still Feelin' Fine", and "This Love Is Mine". Joseph Smith shows everyone why he is one of the best new song-writers in the industry with "Try Jesus". The Booth Brothers then do a stirring rendition of "The Haven of Rest". I was blown away by the special bonus cut,"Still
Feelin'Fine" with Ron Booth and the one and only Mosie Lister! The Booth Brothers did such a fantastic job on this video you would really be missing out if you didn't purchase a copy of your own. I do have two gripes. this video did not include "The Lamb" or "Every Step I Take" which are two of my favorites. Even without these two cuts "The Booth
Brothers Live!" is one of the best videos I've reviewed this year!
---
Artist: Old Time Gospel Hour Quartet - Video
Project: Live From Thomas Road Church
Label: Daywind
Exec Producer: Dottie Leonard Miller
Producer: Robbie Hiner
Director: Dan Bathurst
Style: Southern Gospel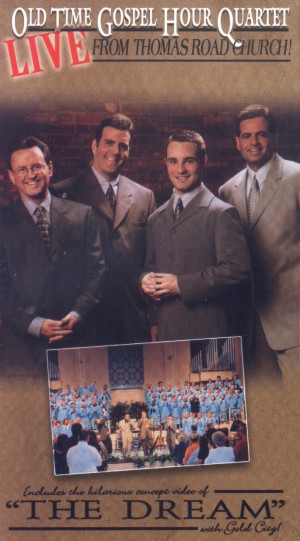 The Old Time Gospel Hour Quartet did something I really liked after singing,
"Walking With Jesus" each member introduced himself and told about his family. Robbie Hiner then gave a brief background on the group. The Old Time Gospel Hour Quartet is one of the best-sounding quartets on the scene today and their great sound adds to the quality of each song they sing. "It Has Always Been The Soldier", is a great patriotic song that tells it how it is. During this song the quartet did a very classy thing' they had all of the veterans join them on stage! A noteable Gerald Crabb song on the project is, "Sometimes I Get Homesick". You will also see, "He Touched Me" featuring Doug Oldham. You also get the very funny, concept video, "The Dream". "Old Time Gospel Hour Quartet Live From Thomas Road Church" is an excellent video that deserves recognition. Any true Southern Gospel fan will love this video. This is nothing but pure,
old-fashioned, quartet singing at its best!
---
Artist: Greenes, Palmetto State Quartet, Legacy Five, Tony Gore &
Majesty, Greater Vision, Jeff & Sheri Easter, Dove Brothers Quartet,
Crabb Family, Gold City, and Perrys - Video
Project: Singing News Fan Awards 2000
Producer: Singing News Magazine
Style: Southern Gospel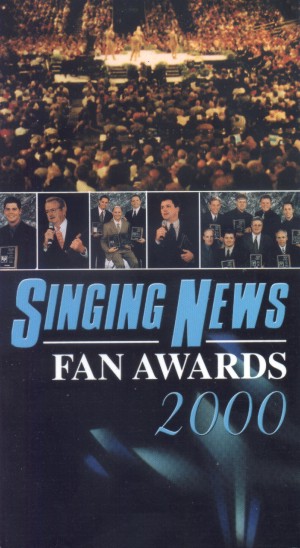 Glorious City of God-Greenes, Good Morning-Palmetto State Quartet, I Stand Redeemed-Legacy Five, I Believe It All-Tony Gore & Majesty, Just One More Soul-Greater Vision, Praise His Name-Jeff & Sheri Easter, Get Away Jordan-Dove Brothers Quartet, Through The Fire-Crabb Family, He Said-Gold City, Praise God, It's Settled, I'm Saved-Perrys. Do you remember the 31st Annual Singing News Fan Awards? It's hard to believe it's been a whole year ago! 2000 brought us some great songs like "Just
One More Soul", and "Praise His Name". Do you remember who won all of the awards last year? It is all right here on this very special video, "Singing News Fan Awards 2000". If you remember last years top ten songs at all, I don't have to tell you how great this video is. The only way I know of to get this project is to subscribe to The Singing News
Magazine. It may seem strange to you to see us promoting another publication. Well, it shouldn't. The Singing News is the grand-daddy of them all, and believe me our staff read it regularly. If you already are a subscriber to The Singing News all I can tell you is to call their office and ask how you can purchase "Singing News Fan Awards 2000".
---
Click Here For More Reviews
---
HOME | SCOOPS | COVER STORY | ABOUT US | CONCERTS* | WEEKLY PLAY LIST | SUBSCRIBE | PRICELESS
REVIEWS | CLASSIFIEDS | BIRTHDAYS | ANNIVERSARIES | CONTACT US | E-MAIL US | GUESTBOOK | LINKS
*This link will direct you to the Singing News Magazine Search Engine.
This website is maintained by Jennifer Campbell.
Copyright 1999, 2000, 2001 Jennifer's Website Design