SGN SCOOPS Presents
First Award To The
Plummer Family Theatre!
by Allen Smith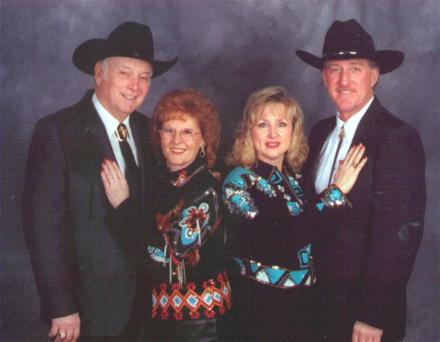 Owners: (Left To Right) Darrell Plummer, Rosie Plummer, Karen Horn, and Gary Horn.

There has been a lot of talk about the new stadiums in baseball, especially in our area where the St Louis Cardinals are drawing up the blueprints for a new nest downtown. It is not hard to see the impact the new ball parks has had on the sport. No doubt, the place where you see an event sporting or otherwise effects your enjoyment of the the game, or in our case the concert. As a fan of Southern Gospel I have traveled many miles to see my favorite artists and in my treks I have experienced many different venues. From a cave, to a riverboat, on the banks of the Ohio River, in open fields, and in theatres. Sometimes we may look past the beautiful facilities in which we gather for these times of praise and worship, but I feel compelled to honor an unsung hero of our industry: our host venues.
This past year a beautiful new facility was erected in Knob Lick, Mo. by the legendary Plummer Family of Branson, Missouri fame. Darrell and his talented family were just the third group to build a theatre in Branson
and after 18 years they 'retired'. But retirement just was not right for them. So a few years later, teaming up with partners Gary and Karen Horn, they built the Knob Lick facility for family entertainment. Since their grand opening in January of 2001 the Plummers have hosted many Gospel events including a monthly Sunday Matinee which features the Berry Brothers. In this article I will keep my focus on the two concerts which led to this award. I feel that these were the two best concerts in our area for 2001.

The first concert is actually the inaugural concert of the Plummer Family Theatre which featured Karen Peck & New River. Everyone was impressed with the beauty and accoustics of the new theatre and from the
moment Heartfelt(the opening act) stepped out on stage, it was clear that it was going to be a night to remember. That night Karen Peck was truly annointed it seemed that no matter what she sang the crowd was ready to worship the Lord. She did a beautiful rendition of "Amazing Grace" and then really brought the house down with "Four Days Late". Without a doubt that was one of the best concerts of 2001. It just seemed like there was something special in the air that night as everyone seemed to raise their hands in worship to the Lord.
Most establishments would be satisfied to host just one event of this caliber in a year, but then on October 19th a man by the name of Michael Combs stepped out on stage at the Plummer Family Theatre. If you have
been to a Michael Combs concert, I don't have to tell you that it was pure excitement. The place was electrified as he sang hits like,"Not For Sale", and "Drinking From My Saucer". The crowd came to their feet several times and no one wanted that night to end. Undoubtably that concert along with the Karen Peck singing made beautiful memories that will live on in the hearts of many Southern Gospel fans.
The reason we chose The Plummer Family Theatre as the best venue of 2001 is based purely on merit. In other words they earned it. As Michael Combs said, "The Plummers make me feel right at home, like I'm part of
the family." Indeed, they made us all feel that way.
What was Darrell Plummers reaction to winning Venue of The Year 2001? "We were just totally surprised. You could tell by my face with the tears. We appreciate it. We're gonna keep it clean." Whether Darrell is talking about the physical condition of the facilities or the quality of the stage show, I can definitely testify to the fact, it is clean! The normal shows at the Plummer Family Theatre are 1/2 country, and 1/2 Gospel and it is all wholesome family entertainment. There is no smoking or alchohol allowed in Mr Plummer's establishment, and I can report that the snack bar has plenty of cheap goodies including my personal favorite, Mountain Dew! If you are in the Farmington, Mo area, you should definitely visit The Plummer Family Theatre. I'm not ashamed to reccommend it to anyone, and I must say this is not a paid endorsement. The bottom-line is Darrell Plummer has been good to me and he is being good to Southern Gospel. If all venues treat artist and promoters as well as The Plummer Family Theatre has this year, concerts can be more enjoyable for everyone.

Publisher Allen Smith Presents award to the
owners of the Plummer Family Theatre.
Click Here To Read The December Cover Story Featuring Naomi & The Segos