Karen Peck & New River
"Tasting Grace"
by Jennifer Campbell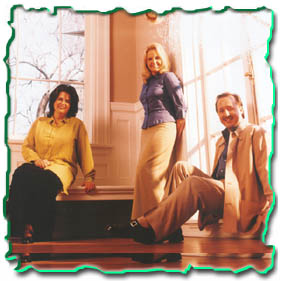 Karen Peck & New River is a group that needs no introduction. Since their formation in 1991, they have captured the hearts of the world with their Southern Gospel, Country, and Bluegrass sounds. Most important, they are sincere in their stand for the Lord. Because of their stand, Karen Peck & New River is "Tasting Grace."
The youngest of three siblings, Karen Peck Gooch became accustomed to Gospel Music at a very early age. Her parents often took Karen and her sisters, Susan and Sandra, to the all-night sings in Atlanta, Georgia. One group often featured at the all-night sings was The LeFevres, who later became known as The Nelons. In 1981, Karen's dream of singing with this talented musical family became a reality when they invited Karen to travel with her favorite group. She remained with The Nelons for ten years, gaining the respect of the Gospel Music industry with her outstanding vocal talent and warm personality.
The fulfilment of another dream came to pass when Karen, her sister Susan, and Karen's husband Rickey, organized the musical blend of Karen Peck & New River. Presently, their name is synonymous with Gospel Music. Over the past decade, they have performed on such renowned stages as Opryland Theme Park, Dollywood, Six Flags Over Georgia, TBN's Praise the Lord, The Grand Ole Opry Live, and the very popular Gaither Homecoming Videos. Karen Peck & New River has received numerous awards and nominations. Among their accolades, Karen received the Singing News Magazine's Favorite Soprano Fan Award for eleven consecutive years. Some of their most popular hits include "Four Days Late," "God Likes to Work," "Daddy's Home," "When Jesus Passes By," "Christian in the House" and "God Still Answers Prayer."
Without a doubt, their latest recording released in June 2000 by Spring Hill Music Group will generate even more success. Soon after the first release from that recording, "Four Days Late" charted on The Singing News, The Gospel Voice, and The US Gospel News charts. The recording, "A Taste of Grace," has the beloved New River sound, as it offers musical diversity enjoyable to listeners of all ages. "We feel like the songs on this recording represent where we've been personally and with the ministry as a whole," Karen relates. "This recording conveys the importance of complete trust in the Lord. Regardless of our wants and desires, God is always taking care of what's best for us. Even when we feel like He's late, He's always right on time. We believe this project will be an encouragement and offer hope to all believers."
Today, Karen and her sister Susan are joined vocally by John Darin Rowsey, who sang with New Journey for more than a decade. John joined New River in January of 2000 and brought his smooth vocal ability, and his gift of songwriting to New River. Such well-known groups as The Gaither Vocal Band, The Talley Trio and The Pfeifers have recorded his songs.
The New River Band is currently comprised of keyboardist Craig Nobles, guitarist Joel Key, bass guitarist Chad Landers, and drummer Jonathan Presnell. Karen's husband Rickey serves as the group's road manager and sound technician, while Susan's husband David coordinates the group's merchandise sales. Karen and Rickey have two children, Kari and Matthew, and David and Susan have one child named Joseph. It is evident that these "New River Kids" add sparkle and joy to the long and sometimes never ending miles that New River travels during the year.
Who has had the greatest influence on these two sisters' lives and ministry? Karen said, "Rex Nelon was a great influence, as well as Eldridge Fox and of course, my mom and dad." Susan said that her greatest influence was her mom and dad. She also said that Karen had a big influence on her life, especially since Karen taught her how to sing parts.
If you could send messages back in time to yourself as a little child, would you want to possibly change the outcome of yourself today? Karen said, "I would tell the young Karen to treasure every moment that she has spent with her dad, and to never take it for granted." Susan said that she would tell the young Susan to read the Bible and live the examples that it teaches.
Have you ever had an embarrassing moment? As humans, we are not perfect and it is usually our imperfectness that gives everyone including ourselves a funny story to tell. Karen's moment of embarrassed fame happened when..."One night, I was at a very big concert and I tripped over the monitor. I didn't fall, but I couldn't hardly sleep that night wondering what if I had fallen? When it happened, I just screamed into the microphone and then I started laughing at myself and couldn't stop. I was so embarrassed." Susan's most embarrassing moment was at church..."I thought the preacher had told us to shake hands and hug each other, so I stood up and went into the middle aisle of the church. Boy was I embarrassed when I realized that he hadn't said that at all."
Everyone faces trials and tribulations at some point in their lives. It doesn't matter who you are or where you have been, you still need encouragement through these problems. Karen said that the songs that have encouraged her the most are "God Likes to Work" and "Four Days Late." "God Likes to Work has ministered to me very much over the years, and Four Days Late is a very timely song, even for myself," Karen commented. Susan said that "God Still Answers Prayer" has helped her through some rough trials in her life.
If you could have one wish, what would it be? This question persuades me to think of all of the little children in the world today that will be making out their Christmas wish lists this month. Some of them may wish for the hottest new toys and electronics, while others may have no Christmas at all. If you really stop to think about it, only one wish really matters. Karen said it best when she said that her one wish would be that everyone was saved. In her own words, Susan added to this by saying that she would like the whole world to come to know Jesus. What greater wish is there than to see a lost soul saved? This should be everyone's goal in life.
I have a special place in my heart for Karen and all of New River. In this world that we live in today, true Christians are sometimes hard to find amid all of the corruption. However, I believe that Karen Peck & New River is one group that knows why they are in the ministry. They are true Christians ministering for the glory of God.
I would like to include a few of the last comments Karen and Susan made during the interview. Karen said, "In March of 2000, I turned forty years old, and this was a turning point in my life. Since this time, I have really felt the call of God in my life. I am honored to be singing Gospel Music, while traveling with my family." Susan added, "Always be encouraged. Even when the situation looks really bad, God loves you. He is there every step of the way."
How true. Jesus is there every step of the way. In closing, I would like to include one of Karen's favorite scriptures, Romans 8:38-39. "For I am persuaded, that neither death, nor life, nor angels, nor principalities, nor powers, nor things present, nor things to come, Nor height, nor depth, nor any other creature, shall be able to separate us from the love of God, which is in Jesus Christ our Lord." Put Jesus Christ at the top of your Christmas wish list, and you will definitely be "Tasting Grace."

For more information:
Karen Peck & New River
P.O. Box 907365
Gainesville, GA 30501
Phone: (706) 864-2082
www.karenpeckandnewriver.com
For booking information:
The Harper Agency
P.O. Box 144
Goodlettsville, TN. 37070
Phone: (615) 851-4500
Fax: (615) 851-9461
www.theharperagency.com
Karen's Favorites

Favorite Restaurant: Poor Richard's (Gainesville, GA)
Favorite Song: Praise His Name
Favorite Animal: Dog
Favorite Scripture: Romans 8:38-39
Favorite Book: The God Chasers
Dream Vacation: Hawaii
Collections: Precious Moments, Little Angels,
and Hallmark Christmas Ornaments


Susan's Favorites

Favorite Restaurant: Old Charlie's (Gainesville, GA)
Favorite Song: What A Day That Will Be
Favorite Soloist: Janet Paschal
Favorite Group: Crabb Family
Favorite Songwriter: John Darwin Ramsey
Favorite Animal: Horses
Favorite Scripture: Matthew 7:7
Favorite Book: The Bible
Dream Vacation: Holy Land
Collections: Lighthouses and Hallmark Christmas Ornaments
Click Here To Read The November Cover Story Featuring Common Bond
ABOUT THE AUTHOR

Jennifer Campbell

18 Years Old

From McAlpin, FL

Contributing

Editor Of

SGN SCOOPS Magazine
Visit Jennifer's Web Site at: http://www.jennifercampbell.net