A Visit With
The Crabb Family
by Jennifer Campbell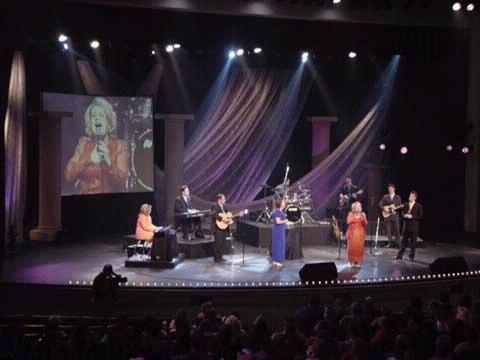 In Beaver Dam, Kentucky, you will find an entire family who has committed their lives to ministering for the cause of Christ. They love each other and they love Jesus Christ. In a short amount of time, they have captured a special place in the hearts of Southern Gospel Music Fans everywhere. During the last three years, they have had nine top ten songs. This family brings a seven-piece band and six vocalists to the stage. Consisting of Gerald and Kathy Crabb, five of their six children, a few in-laws, and Chuck Reyer, the Crabb Family is the largest "family" group on the road. Please read on to find out what makes this family so special as you experience "A Visit With the Crabb Family."
As the father of the group, Gerald Douglas Crabb holds a very large responsibility. With God walking by His side, he manages his family and ministry quite well. While he has been influencing his family, who has influenced his own life and ministry? "Besides Jesus Christ, my wife Kathy and my family," Gerald stated. In his father's shadow, Aaron also said that Jesus Christ was the greatest influence in his life.
Jason Crabb is the oldest son of Gerald and Kathy Crabb. He is a very versatile singer and musician at the young age of twenty-three. His wife, Shellye, also travels with the group as the product manager. He said that the greatest influence on his life was none other than his dad. Kelly said that the ones who had influenced her life and ministry the most were her parents and grandmother. Mike answered, "My parents and grandparents, The Hinsons and The Goodmans." Terah said, "The greatest influence in my life would be my Grandma. She is awesome. She's the one who led me to the Lord at the age of nine. What a Godly woman she is! Also, the greatest influence as far as singing is Priscilla McGruder, what an anointed lady she is! The Isaacs, Jeff & Sheri Easter, and the list goes on and on." "Micheal English and The Hinsons," Adam stated.
Do you have a pet peeve? Well, when asked about the meaning of Southern Gospel Music, Gerald was quick to mention his own pet peeve. "Music with a message. Unlike a lot of other so called Gospel music, our message is not hid. When the song is through, you know who and what it is talking about. This is my pet peeve - why write a song and try to push it on the Gospel listener when the song does not clearly portray Jesus Christ. If it's not Gospel, give it to the secular artist. Don't take up a position that could exalt Jesus. He is the reason."
Kathy Crabb is the wife of Gerald Crabb and the mother of this family entourage. She also serves as arranger and road manager and plays keyboards and organ on stage. She defines Southern Gospel Music as, "Music with a message, bonded together by lyrics, straight out of the Bible, and not about style and presentation." Jason said that Southern Gospel Music included "Songs with a strong message. Songs of hope and encouragement!" Kelly defined the music that she sings as, "The most powerful music in the world!" Mike and Terah said, "Music with a message." Adam added to this by saying, "Music with a strong message that is easy to understand." Aaron concluded, "A message that needs to be heard!"
Has a song ever blessed you in special way during a trial in your life? Gerald said that "I Still Trust You" by The McFalls had been an encouragement to him. He also added, "Wow, what a song." Kathy said "Through the Fire" had blessed her in a special way. Aaron added to his mother's choice by saying, "No matter what trial or trouble, God's love is with you!" Jason answered, "I Still Trust You" and "We Have a Savior." Adam said, "Four Days Late" It helped me to realize that God is always on time, even when you think He isn't!"
Terah Crabb is the youngest member of the Crabb Family and has been singing since she was eight years old. At her young age of seventeen, she has a great big voice and says that she is living out her dream. She said that the song that has had the greatest influence on her life is, "I Can Go to the Master" by the McGruders. The song says, "I can go to the Master, He always listens." It may seem like you don't have any friends and that you're all alone, but like the song says, "He always listens." Kelly agreed with Terah by saying, ""I Can Go to the Master" by The McGruders. No matter what the problem, you CAN go to the Master!"
Speaking of songs, Gerald has written many great songs in Southern Gospel Music and has become one of the most prolific songwriters in this industry. When asked to name a song that he would have liked to have written, he answered, "I Still Trust You" by James McFall, "Miracle in Me" by Phil Cross, and "When Nothing But a Miracle Will Do" by Aaron Wilburn. These are great songs and they really stir my heart." Kathy said that she would like to be able to write ANY song. Jason answered, "I Still Trust You" The words are so true!" Mike would have liked to have written, "Please Forgive Me" by Gerald Crabb. I've seen it touch so many lives." Terah answered, "Amazing Grace" What a song! Everybody in America knows it! It will never get old!" Adam said, "Through the Fire" because it touches and encourages so many people. Every night when we sing, we get to hear testimonies from people!" Aaron commented on this by saying, "Any of Dad's songs!"
Concerning his family, Gerald said, "My family is a great part of my ministry. Almost everything we do, we do together. Off the road, I spend most of my time in the office, recording studio, or going back and forth to Nashville." Kathy said, "We all travel together, live next door to each other, and it's great!" Jason commented, "I am very fortunate to get to minister with my family and my wife. I don't have to leave anyone at home! The road is great, but boy is it good to get home!" Terah said, "People ask all the time, 'How do you do it? I would kill my brothers or sisters if I had to be with them all the time!' But it's true, what you see on stage is how we are off stage. We have so much fun. Time off the road is like, clean the bus (that's my job), wash clothes, fishing, movies, and getting ready to go back on the road!" Adam said, "I am with my family all the time when we travel and when we are at home. I even get to be with my wife, Kristi. I love it. I have a great family." Aaron said, "We all travel together and minister together. I love it!"
Kelly Crabb Bowling is twenty-two years old and is a very accomplished vocalist. She and her husband, Mike Bowling, are parents to their pride and joy, Loryn Hope. She added, "I get to travel with my family, my husband, and my baby. I am so blessed! During our time off the road, we try to spend quality family time together, and get caught up around the house!" Her husband, Mike, added, "I get to travel with my wife and daughter, and I feel so blessed."
Have you ever had an embarrassing moment? If you have, I am sure that many laughs have occurred because of your embarrassing moment of glory. Gerald said that his most embarrassing moment was, "Asking a lady when the baby was due and find out that she was not pregnant. Now, that is embarrassing! I learned a real lesson there." Kathy's most embarrassing moment was when she fell off a piano stool at church! Jason said that he was embarrassed when, "My pants were unzipped during an entire concert!" Following in her mother's footsteps, Kelly said that her most embarrassing moment occurred when she fell off the stage during a concert.
Mike Bowling is no stranger to Southern Gospel Music. Previously, he has traveled with The LeFevres, The New Hinsons, and The Perrys. Now, he not only plays piano for the Crabb Family, but he is also launching a solo career on the side. He said that his most embarrassing moment was "Filming a Gaither video...I messed up bad!" Adam said that he was embarrassed when, "I went to school (I was in middle school) and had some static cling in my clothes. Well, later in the day, someone asked what was hanging out of the bottom of my pants, and it was a pair of underwear! I still get embarrassed over it!" Aaron said, "There are too many to tell!"
I believe that most everyone has at least one day in their life that stands out among the rest. That could be a High School or College Graduation, Wedding Day, or a Physical or Spiritual New Birth. Gerald said that the most wonderful day of his life was, "The day I had a real experience with Christ." "There are too many to pick one," commented Kathy. Jason said, "Marrying the most wonderful woman in the world, Shellye." "Aside from being saved, the day Loryn Hope was born," Kelly said. Mike answered, "The day I got saved." Terah said, "It hasn't happened yet. On July 29, 2001, I will marry my best friend, Jonathon Penhollow."
Aaron and Adam Crabb are twenty-year-old twin brothers. Aaron is the bass guitar player for the family, and a featured vocalist. Adam plays the harmonica on stage and is also a vocalist for the group. During each Crabb Family Concert, brothers' Adam, Aaron, and Jason team up for a song that includes outstanding brotherly harmony that is sure to please young and old alike. When asked about the most wonderful day of their life, these two twins answered in two totally different ways. Adam answered, "The day that I married the love of my life, Kristi." Aaron said, "Writing my first song!"
Probably the most unusual question that I asked during this interview was, "If you could send someone back in time, what messages would you send to the young Gerald Crabb?" Gerald answered, "Stay in school. Get a Godly focus in life and don't be sidetracked by all the peer pressure. Learn from the mistakes of others. The bad thing is the young Gerald Crabb would not have listened. The truth is we can never go back, but thank God he gives us a fresh start." Kathy responded to this question by saying, "Know that you are capable and called, concentrate on your calling and skills, and don't get trapped like most young people." Jason answered, "Nothing - God has taken care of everything!" Kelly said, "I would tell him that he was going to be a great dad and Christian role model!" Adam would tell the young Gerald to, "Let me write some of those songs! Ha! Ha!"
Do you have dreams and aspirations? The Crabb Family is no exception. Gerald said, "We would somehow like to be able to give back to the people all the joy that they have given us." Kathy hopes to, "See all kids go to Heaven and take millions with them." Jason would like to sing a song with the Gaither Vocal Band. "I want to be a good mother, wife, singer, and a good example for other Christians," Kelly added. Terah would like to see more souls saved in the year 2001! Adam said, "To be a better musician and to see souls saved." "I would like to be a better Christian and witness, and I would like to learn more about the technical side of recording," Aaron said.
Gerald added to this article by saying, "Our new project, "Living Out the Dream" says something. It says what the Crabb Family feels. From my heart I want to say, Thanks to all of those special people who have labored and prayed with us and for us. Nothing is more precious than a real friend and I have been blessed with many and I love you all so much."
In honor of their newest project, I would like to conclude this article by telling you their answers to one question. If you had one wish or dream, what would it be? Gerald said, "First, that the drug problem in the world could be fixed, and that our young people could be set free from drugs and alcohol. Second, that all the youth in the world could have good parental role models. What a wish, the second wish would probably correct the first wish." Kathy added, "Wipe out all addictive drugs and alcohol, because most heartbreak in families and problems arise from addiction." Jason said, "For more young people to get involved in Gospel music." Kelly commented, "For all those that we come in contact with to be saved!" Mike hopes to, "Lead as many people to the Lord as possible." Aaron said his number one wish would be, "To be in Heaven!" Adam said, "To be a better witness."
To be a better witness is a dream that everyone should continuously strive for. There is no better way to live out your dreams. God has called every one of us to carry the Gospel message to everyone. If you are living in His will, He will reward you with your dreams. I hope you have been blessed by experiencing, "A Visit With the Crabb Family."

Contact Information:
The Crabb Family
P.O. Box 227
Beaver Dam, KY 42320
Phone: (270) 274-9900
Fax: (270) 274-3124
Website: www.thecrabbfamily.com
E-mail: thecrabbfamily@yahoo.com
Gerald's Favorites
Favorite Food: Corned Beef & Cabbage
Favorite Restaurant: Houston's in Nashville
Favorite Song: "I Still Trust You" by James McFall
Favorite Soloist: Mike Bowling
Favorite Group: I have many - I love Southern Gospel Music.
Favorite Musician: Wanda Vick - she plays so many instruments.
Favorite Hobby/Interest: Writing Songs
Favorite Animal: Pig - I love to watch them eat.
Dream Vacation: I can't find time for one.

Kathy's Favorites
Favorite Food: Krispy Kreme Doughnuts
Favorite Restaurant: Houston's in Nashville
Favorite Song: "Through the Fire"
Favorite Soloist: Mike Bowling
Favorite Group: Too many to pick! Any that speaks the Gospel.
Favorite Musician: Jared Davis
Favorite Hobby/Interest: Shopping
Favorite Scripture: Romans 8:28
Favorite Animal: No favorites! My Grandkids...Ha! Ha!
Dream Vacation: Paris, France

Jason's Favorites
Favorite Food: Kentucky Fried Chicken
Favorite Restaurant: Japanese
Favorite Song: "Arise My Love"
Favorite Soloist: Mike Bowling
Favorite Group: Karen Peck & New River
Favorite Musician: Brent Mason
Favorite Hobby/Interest: Hunting, Fishing, and Playing Golf
Favorite Scripture: The 3rd chapter of Proverbs
Favorite Animal: Koala Bear
Dream Vacation: Hunting in Colorado!

Kelly's Favorites
Favorite Food: Papa John's Pizza
Favorite Restaurant: Mama's Kuntry Kettle and Anderson's
Favorite Song: "You Choose to Be My Friend"
Favorite Soloist: Mike Bowling
Favorite Group: The Isaacs and Jeff & Sheri Easter
Favorite Musician: Adam Crabb
Favorite Hobby/Interest: Selling Mary Kay and Shopping
Favorite Scripture: John 3:16
Favorite Animal: I don't like animals, but I do have a two-year-old!
Dream Vacation: Italy and Hawaii

Mike's Favorites
Favorite Food: Chinese/Home Cooking
Favorite Restaurant: Mama's Kuntry Kettle
Favorite Song: "I Still Trust You Lord" by James McFall
Favorite Soloist: Janet Paschal
Favorite Group: The Original Hinsons
Favorite Musician: Jason Webb
Favorite Hobby/Interest: Yard Work and Photography
Favorite Animal: Horse
Dream Vacation: Europe

Terah's Favorites
Favorite Food: M&M's (plain)
Favorite Restaurant: Olive Garden
Favorite Song: "It's Still the Cross"
Favorite Soloist: Mike Bowling and Daniel Riley
Favorite Group: That is hard, there are so many! The Isaacs, Jeff & Sheri Easter,
The Hoppers, The Greenes, and so many more.
Favorite Musician: Steve Easter and my family band.
Favorite Hobby/Interest: Fishing, Shopping, and Eating
Favorite Scripture: Philippians 3:14
Favorite Animal: Dogs and my two fish
Dream Vacation: New York and Hawaii

Adam's Favorites
Favorite Food: Pizza Rolls
Favorite Restaurant: Any Japanese Steak House!
Favorite Song: "The Healer" (Unrecorded - Dad wrote it)
Favorite Soloist: Mike Bowling
Favorite Group: The Hinsons
Favorite Musician: Terry McMillian
Favorite Hobby/Interest: Golf
Favorite Scripture: Proverbs 3:5-6
Favorite Animal: Dog
Dream Vacation: Hawaii

Aaron's Favorites
Favorite Food: Chips (any kind!)
Favorite Restaurant: T.G.I. Fridays
Favorite Song: "Through the Fire"
Favorite Soloist: Natalie Grant
Favorite Group: The Isaacs
Favorite Hobby/Interest: Basketball
Favorite Scripture: Psalms 1:1
Favorite Animal: Horses
Dream Vacation: England
Click Here To Read The May Cover Story Featuring Donnie Sumner
ABOUT THE AUTHOR

Jennifer Campbell

19 Years Old

From McAlpin, FL

Contributing

Editor Of

SGN SCOOPS Magazine
Visit Jennifer's Web Site at: http://www.jennifercampbell.net